Setting up the integration:
(Note: If you do not see the Integration Tabs in your Account Settings, please contact Customer Success at clientsuccess@advisorstream.com)
1. To establish this integration with AdvisorStream, login to your AdvisorStream account and go to your Account Settings:
2. Then, click Integrations from your navigation menu on the left: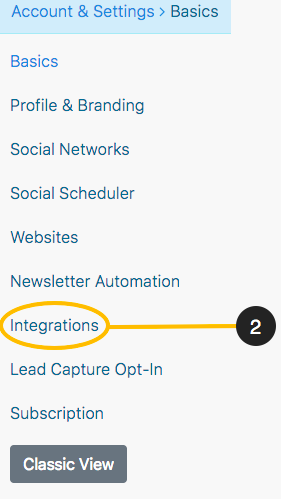 3. Then, click on the Redtail area: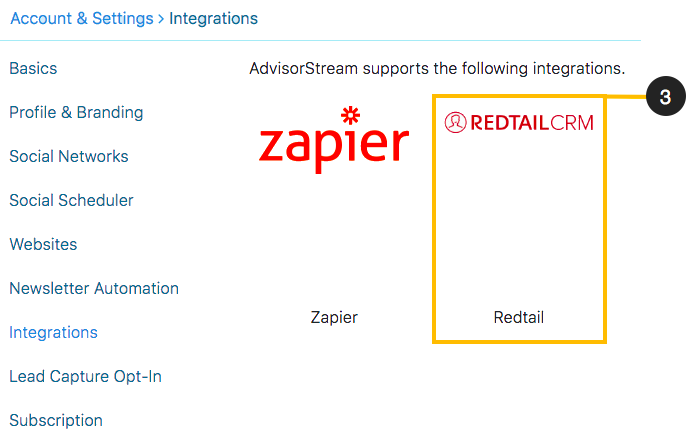 4. Enter your Redtail credentials and click Connect:
5. Integration functionality:
After connecting as described above, you'll then see two areas, one displaying all of the Contact Statuses within your database and the second displaying all of the Tag Groups within your database:
You can then select either Status or Tag Group, using the box next to their header, and select one or more entries under the one you select and then click the Sync button. Note: you can always come back and select different Statuses or Tag Groups to sync on different occasions, but that new group (or groups) will replace previous contacts you've synced over unless you stick with syncing either Tag Groups or Statuses. In other words, if you want to keep the contacts that you've previously synced over in AdvisorStream, you'll need to stick with syncing based upon your previously selected type of designator (Status or Tag Group).
6. Once your sync is complete, you can access your synced contacts from the menu accessible in the upper right corner:

7. After clicking Contacts here, you'd see the below (reflecting your contacts):
Once you have your contacts in AdvisorStream, you can begin the process of marketing to them using the platform.