Step 1
To change your opt-in information first click on your Username on the top right of the AdvisorStream page, and then click "Account Settings".

Step 2
Click on "Lead Capture Opt-in" option in the left hand menu.
Step 3
Select the desired style of opt-in that will appear to your prospective clients by clicking on the left or right box.
Branded template: puts emphasis on your picture & brand, and the opt-in message is fully customizable.
Streamlined template: highlights the publishers and content being accessed. The opt-in message is designed to be quick and easy to read, and does not currently offer customization.
An example of each is displayed to assist you in choosing.

Note: The Streamlined template does not provide any customization of the opt-in message.
Step 4
Select the Social & Web Opt-In field to change your opt-in requirement by clicking on the arrow don't down menu.
Step 5
Select the Email Opt-In field to change your opt-in requirement by clicking on the arrow drop-down menu.
Step 6
The Opt-In delay allows you to choose when the Opt-In message will appear when your clients & potential prospects are viewing your content.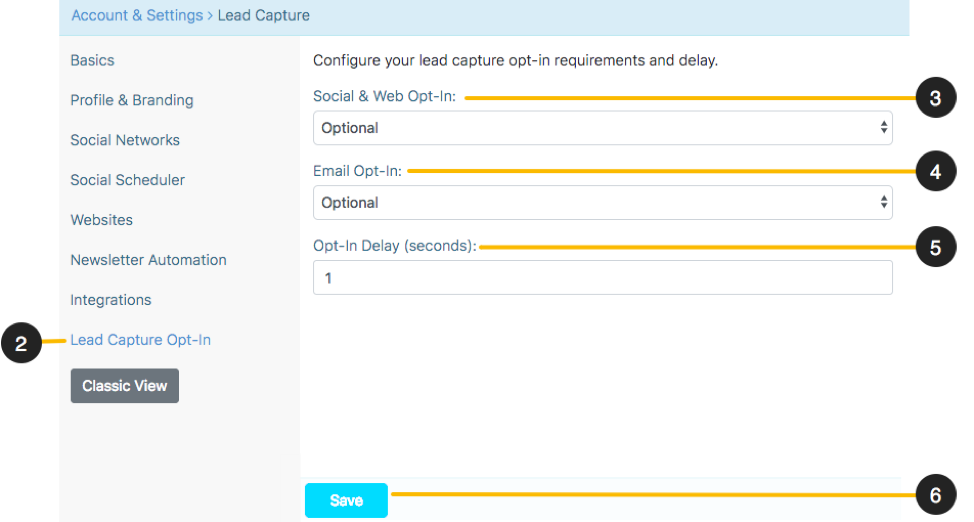 Step 7
Additional options may also be available:
Automated Follow-Up: Allows you to automatically send new leads a simple welcome and thank you for subscribing email.
Extra Capture Fields: Allows you to request additional data, such as phone number during the sign-up process.
GDPR Complaince: Allows AdvisorStream users in the UK additional notices and disclosures to prospective clients about the data being collected, as required by law.

Step 8
Click Save on the bottom right when you finish.
Note: Some features may be disabled due to compliance restrictions. Please contact Customer Success for more information.