AdvisorStream will send you an email notification once an article is posted on your social media account(s) and website. An example of the notification you'll receive is shown below.
If you haven't received the above notification you can always check within your AdvisorStream outbox.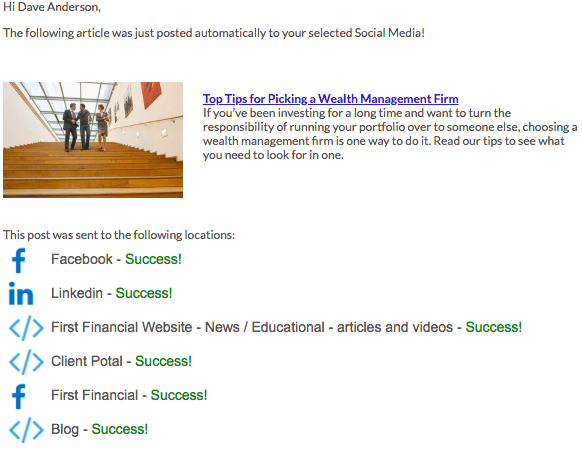 Step 1
Head to your "Outbox"
Step 2
The Outbox page allows you to view a log of past activity including social shares. To see which social account the article has been posted on you can check the icon beside the article title.
If the article/video did not post to a connected network, check your social networks to ensure that your social account is connected. Click here to learn how to connect or re-connect your social account(s).


Note: [F] icon is Facebook, [in] icon is LinkedIn, [Bird] icon is Twitter, and [Globe 🌐] is website posting.
Please note that each of publishing agreements is unique. An example is the Wall Street Journal where advisors cannot post the articles on their websites.