AdvisorStream provides you with the ability to create your own Campaign(s). There are a few things to consider before building a new Campaign.

1. What is your goal? Will this be a perpetual campaign (e.g lead nurturing) or is it seasonal with an end date (e.g tax season or event-driven). Are you looking to nurture and educate a lead? Or are you looking to increase the volume of signups to your upcoming webinar?

2. Identify your target audience - Drip campaigns are all about breaking your contact list into subsections/segments, and targeting information to niches of clients and prospects. Determining which groups you would like emails delivered to.

3. Craft your message - Once you've identified whom you are targeting, you need to craft a message that's educational, interesting and grabs their attention.

4. Choosing your content - Your content should align with your goal and message and be relevant for your audience. When choosing the content for each message within your Campaign, you can opt to 1) hand-select the content yourself, 2) allow for algorithmic recommendations, or 3) use a combination of both.


Once a Campaign is created it can be edited at any point to ensure it is always relevant and performing well.

How to Create your own Campaign from Scratch
Begin by heading to the Campaigns Dashboard in your AdvisorStream account.
Step 1: Click the +new campaign
Step 2: Click Create Custom Campaign
Step 3: Give the Campaign a name (this is not client-facing) + choose the theme.
Step 4: Choose the number of days between each email (the frequency)- ie. if your choose 5 days, AdvisorStream will space out the emails, and deliver one email every 5 days.

Content & Messaging:

Content: From the dropdown menu, select the content topic. Each email is accompanied by a single branded content piece. You can manually select the content piece for each message (this is done below in the compose your email message box), or allow a recommended piece to be chosen at the time of sending.

You can also choose a combination of both, hand-selected and auto-selected (based on the topic).

Note:

if you are under an AdvisorStream integrated compliance workflow, we will only pull from pre-approved content.
Greeting:

Choose how you would like to address your clients/ prospects.
Message: Compose the subject line and first message within the email drip sequence.


If you would like to select the content yourself click the +

Select Content

below the message box. Browse the Content Library or use the filter tools on the left to find a relevant content piece.

Click the new email button to add another email communication to the drip sequence. Repeat the steps above. We encourage you to create between 5-7 messages within a Campaign.

Note:

if you are under an AdvisorStream integrated compliance workflow, the message may need compliance review.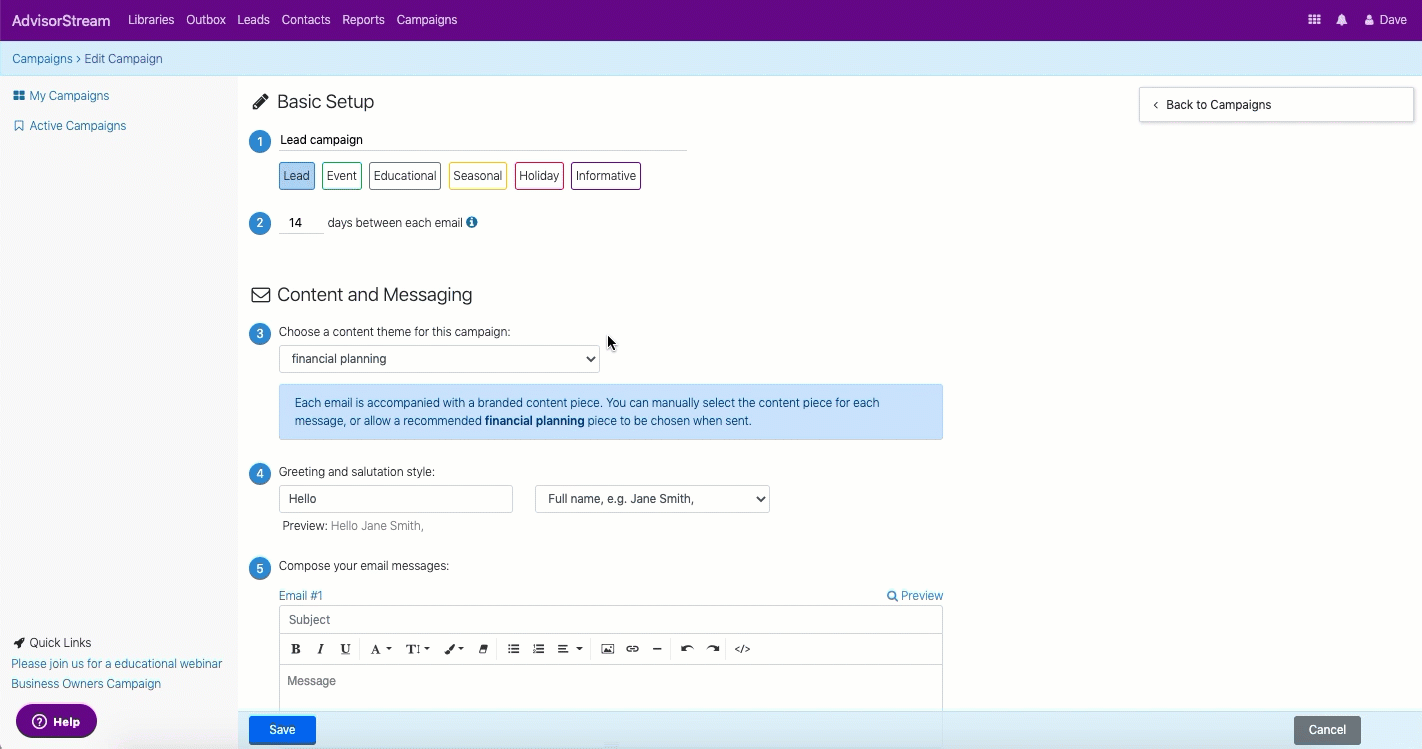 Scheduling
Time: C

hoose the time of day the emails will be sent.

Start/end date: Choose the start and end date.

The start date indicates the first day your Campaign will go live. This allows you to create Campaigns in advance and schedule them for a future start date.

The end date allows you to set a date that the Campaign will no longer be delivered. If your Campaign is time-sensitive, such as an event or seasonal topic you'll want to include an end date. If you do not choose an end date, your Campaign will end once all contacts have gone through the whole sequence.


Advanced Setup
Persona/Branding: If you have multiple Personas, choose the one you would like to use.
Auto Enroll Leads: Choose to automatically enroll new organic leads into this Campaign (leads AdvisorStream captures).


Enrollment
How to Enroll Contacts:
Using the picker type the name/ email address, or select from the Contact list(s) - max 300 contacts.
Once your Campaign starts the contacts will automatically receive the first email drip.

Once you have completed the setup steps, click

save.

Your campaign is now live, the first email will be sent soon.
*The AdvisorStream Campaigns tool is available at an additional cost.